= Historical Novels by John T. Cullen =
1892 True Crime/Famous Ghost Legend
Coronado Mystery. My research has so far yielded three books, with a fourth on the way. First I wrote a nonfiction, scholarly analysis titled Dead Move (using a common hotel industry term). From that, I spun off a noir period novel titled Lethal Journey, which is featured here as one of my historical novels. Next, I have published both books together in one volume titled Coronado Mystery. And, over the years, I have created at least three websites, one for each book.
Coronado Mystery (duet: both books in one)
Dead Move (nonfiction)
Lethal Journey (historical novel; fiction)
Background. After retiring from day jobs (including as a technical writer in computer systems development and aerospace), I took a part-time job for sun & fun as a shuttle driver at the world-famous (and wonderful) Hotel Del Coronado near San Diego. The hotel wanted us drivers (a half dozen or so, of varied background) to learn as much as possible about San Diego, Coronado, and Hotel Del history. Among many resources, the management had us read the Hotel's official book Beautiful Stranger: The Ghost of Kate Morgan and the Hotel del Coronado. I found the book to be well researched, nicely written, and beautifully illustrated. With my background in journalism (former reporter), writer (fiction, poetry, nonfiction), and scholar (B.A. Univ. of Conn., M.S. Boston University) I read with interest and then felt compelled to dig deeper, especially since the hotel's book leaves certain key questions unanswered or ambiguous. So I began my own research... and ended up (I am certain) solving the mystery that has lingered around the area for well over a century now. I can take or leave the ghost legend (if you believe in ghosts, this tells you how she became one; if you don't believe in ghosts, this is excellent true crime reading about the 1890s). Again about these three books:
Nonfiction (Dead Move) First result in 2008 was my nonfiction, scholarly research report titled Dead Move: The Haunting Mystery of Coronado which includes over 120 end notes and deep detail. For info about Dead Move, see this dedicated website Dead Move which includes what I call the Lottiepedia (updated as needed). Part of that nonfiction work was a painstaking, hour by hour dramatization of the Beautiful Stranger's every known move from checking in during the early afternoon of Thanksgiving Day, 1892 and her violent, mysterious death by a gunshot to the head less than a week later, during a terrific sea storm of the century.>
Historical Novel: Lethal Journey I removed the detailed dramatization from Dead Move and turned it into a standalone novel titled Lethal Journey. Most important point: My primary objective was to write the most rousing thriller I could, while staying as close to the facts of my scholarly research. I took the essential facts of my research in Dead Move, and carefully spliced in a fanciful bit of legend that makes for exciting reading but is pure fiction. Namely, everything in Lethal Journeyis true *except* Tom Morgan, the husband of villainess and grifter Kate Morgan, never set foot in San Diego. In reality, he was never a gambler, did not rob or murder people on transcontinental trains, and did not shoot his wife. In reality, I found that the dead woman (Beautiful Stranger) was clearly not Kate Morgan (a homely sociopath) but the radiant, elegant Elizabeth 'Lizzie' Wyllie of Detroit. It's all in my two books, gathered under one roof in the duet Coronado Mystery. Happy reading!
Quick Notes. You'll find a lot more info in my three dedicated websites, including the Lottiepedia with its detailed items.
Why a Coverup? I think first of all that it's obvious the Hotel avoided the topic for a century, considering it bad press. The issue was raised again by author Alan May in a scurrilous book in the 1980s, in which he introduced added falsehoods and obvious nonsense; e.g., that Tom Morgan was a murderer; and that he, Alan May, had dinner every evening with the ghost in her former room (302, now 3327). As a result, I think, the Hotel published its beautiful volume titled Beautiful Stranger around the turn of the century to put the story in better perspective. It seemed to me that the book leaves key features unanswered, and those are the questions I felt compelled to pursue and to clarify, which I have accomplished. (Continued at lower right)
A Noir 1892 Thriller Based on True History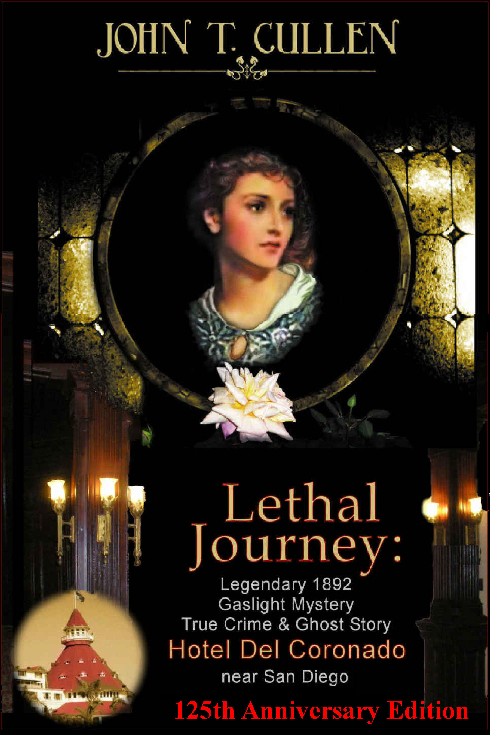 Beautiful Stranger 1892: Mysterious Violent Death
A National Scandal with Global Repercussions (Hushed Up)
(continued from lower left):
Deeper/Wider History. It became obvious to me that John Spreckels, wealthy son of billionaire Claus Spreckels, needed his agents in San Diego to cover up any hint of scandal in Victorian and Puritanical US society. At the moment when the conspirators were launching their major blackmail attempt based on false accusations against Spreckels, he was in the White House with the President (Benjamin Harrison) negotiating desperately to save the sovereign nation of Hawai'i from being seized by U.S. corporate interests and turned into a U.S. territory. At stake was not only the fate of Hawai'i and its people, but the fortune of so-called Sugar Baron Claus Spreckels, who owned vast plantations in Hawai'i. However, a few weeks after Kate Morgan's crime plot failed at the Hotel Del, U.S. corporate plotters seized Hawai'i; a vast crime for which President Clinton and the GOP-controlled Congress in 1983 issued (a century later) a national apology to the people of Hawai'i. The plotters at the Hotel Del were unaware of all this, I'm sure.
It's fascinating, in any case, to see the Beautiful Stranger (true story) as part of a global web of intrigue. That web stretches from San Diego and San Francisco on the U.S. West Coast to the national capital Washington, D.C. on the East Coast. Furthermore, it reaches from the Iolani Palace in Honolulu clear around the world to the court of U.K. Queen Victoria. The beautiful Crown Princess Victoria Ka'iulani of Hawai'i at the moment of the overthrow was in London with Queen Victoria (in whose honor she was named by the Hawai'ian royal family). Hawai'i had long been recognized by every major country as a sovereign nation, except in corporate USA. The Crown Princess is the other tragic woman in this story, who died young (24) from stress and heartbreak trying to recover her Aunt's lawful position as Queen of Hawai'i. She was ridiculed and savaged by the right-wing, corporate, oligarch press of her time as 'a monkey' and a 'heathen' and 'a cannibal with a bone in her nose.' In fact, Victoria Ka'iulani was the daughter of a Hawai'ian princess and a Scottish (Presbyterian, Calvinist) businessman. She was elegant, educated, diplomatic, and beautiful; a devout Christian; in a haunting way, another tragic beauty like the little airhead shopgirl from Detroit (Lizzie Wyllie, the real Beautiful Stranger) who was also sacrificed on the altar of dark and cruel business monopolism. Read the books and care; a deep and thoughtful slog, but worth the effort both as a thrilling entertainment and an eye-opening investigation. Let the truth speak for itself.