= Historical Novels by John T. Cullen =
Writing as Jean-Thomas Cullen (Euro Name)
Rob and Hannah Wilson (twins, 30) return home to Oregon from Europe for their fatherís funeral. Dan Wilson, 70, rests in a green cemetery of twittering birds and sun-dappled shade, beside his second wife (or was she?) Nancy, who died in 2018 after 30 happy years together.
Unnoticed among two dozen mourners stands a beautiful, stylish angel named Claire from a parallel reality, wearing designer sunglasses and a Parisian outfit. Claire is the ghost of the twinsí baby sister Klara, who died as an infant in 1979 while Dan Wilson served as a young U. S. Army soldier in Heidelberg, West Germany. Claire is invisible, but has a faint glow behind her, untouched by raindrops. Moving unseen through this world, Claire plants Danís journals and drops clues to send Rob and Hannah on a mission: tying together loose ends, family secrets, and lost souls.
Claire's other gift to our world is to reveal the pagan goddess behind Leonardo da Vinci's famous painting, Mona Lisa (which would have seen Leonardo burned at the stake by the Inquisition, had the truth come out). Dan and Nancy Wilsonís twin children carry this story to its amazing resolution. Hannah works for a Paris insurance firm,while dating young music producer Yves Cartier. Rob is a doctoral student at Frankfurtís Goethe University, dating Elise Gillen of Luxembourg.
Back in 1978, young Dan Wilson made a tragic decision on a bridge in Paris (Pont des Arts, by the Louvre), to abandon the true love of his life (Paris student Claudette Vervain). Dan returned to his duty station in Heidelberg, where he married a Croatian-German girl named Stana Chetko based on Stana's lies that she was pregnant by Dan.
Their daughter Klara (Claire) was conceived soon after. In a dark, forbidding mountain village near Heidelberg, Dan Wilsonís emotional nightmare included a loveless marriage; infant Klaraís death from a heart defect caused by Stanaís drinking, depression, and not wanting a child; sociopathic bullying by Stanaís father (an escaped Croatian Nazi war criminal who raped Stana as a child); and Danís unsympathetic, ignorant, at times cruel U.S. Army superiors. After his Army years, Dan returned to Oregon. He started a wonderful new life, marrying Nancy, and having the twins Rob and Hannah. But dark shadows of our past lie long upon the afternoon of a personís life.
In 1970s Paris, Claudetteís doctoral thesis revealed stunning info on Leonardo da Vinciís Mona Lisa in the Louvre, credited to notebooks of Dr. Benjamin Wandrous, a Jewish scholar murdered by the Nazis in occupied 1940s France. After Dan left her, heart-broken Claudette dated a young alcoholic, with whom she died in a car crash in 1979. Her revelations were lost.
Rob and Hannah journey to Paris, to learn the truth about their fatherís life, and why Leonardo da Vinci obsessed over his unpaid portrait of that soulful woman of 1500s Florence, Lisa Gherardini.
In the Shakespeare & Company bookstore on the Left Bank, Hannah brushes by her lost sister's ghost under a famous sign: ďBe not unkind to strangers, lest they turn out to be angels.Ē (Continued at lower right…)
Leonardo Da Vinci's Dangerous Dream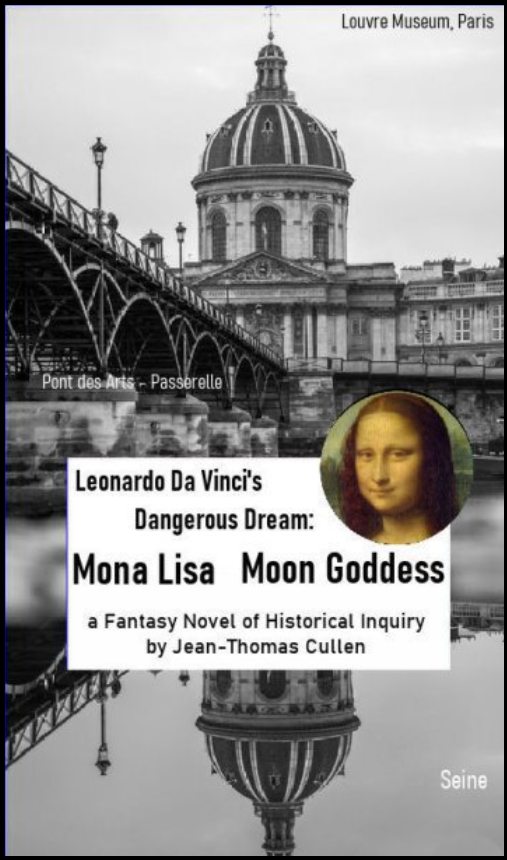 A Fantasy Novel of Historical Inquiry
Continued from lower left:
Fate does work with angels to fix unbearable situations. On the windy, weepy, rainy 1979 night as Klara died in the German medical center at Heidelberg, a miracle came to the remote village. Broken-hearted Dan slept exhaustedly, but woke in darkness knowing it was the moment of her death. A calm, self-assured adult woman's voice spoke in his head; his baby daughter, as a mature woman (somehow, somewhere in timeÖ).
Klara (Claire)ís voice said not to worry; all will be fine. Dan Wilson heard her in his head, did not understand her message, and grieved for his babyís death all of his life. Klara promised that, on a future day, at the moment of his death, her daddy would receive a wonderful gift: a new life, back on that bridge at that moment in 1978. Now that promise is set in motion at Danís funeral in Oregon...