= Historical Novels by John T. Cullen =
My Very Own Doctor Zhivago or Winds of War
Author Info. For the moment, I'll point you to my main author page at John T. Cullen. I will just add briefly: My reading passions over a lifetime have included historical fiction. That includes the work of Mary Renault, John Dos Passos (USA Trilogy), and many more. Years ago, a professional outside reader at a New York City agency described my writing as that of "a young Sidney Sheldon." As a voracious reader, and fan of Sidney Sheldon, I still relish that compliment.
Started As A Short Story. This novel, originally titled Umnitsa (meaning a good or clever girl in Russian), began in a modest fashion and over at least a decade of writing grew into a sprawling saga of which I am very proud. It covers half a century from the early days of World War Two through the fall of the Soviet Union in 1991. On one level, it is the story of a young watchmaker named Tim Nordhall from New Haven, Connecticut, who joins the U.S. military like millions of his generation, and serves as an inteligence officer in the U.S. Navy. His adventures begin when the British warship on which he is liaison is torpedoed and sunk by a Nazi submarine. Tim is the only survivor. Washed ashore on the coast of Africa, he goes through a terrifying series of adventures, ultimately in the Belgian Congo being recruited to take the place of a murdered U.S. spy on the trail of atomic secrets. Tim's journey takes him to London, where he continues his secret work, coming up against Stalin's potent spy known as Jaguar.
Stationed in London through 1943, he continues his deeply secret work, trying to help the U.S. uproot a major Soviet espionage ring that threatens to compromise U.S. military atomic research. Along the way, he falls in love with a beautiful Polish army nurse who is also secretly a member of the resistance and an anti-Soviet spy. This woman vanishes, kidnapped by Stalin's agents. She takes with her a piece of Tim Nordhall's soul... pregnant with a little daughter known only as Umnitsa, who will be born in a remote corner of Siberia.
While the inner core of the story takes Tim from London in 1944 to San Francisco in 1945, where he vanishes, the outer candy wrapper of this saga concerns the search for her long-vanished father by a wealthy, aristocratic, and adopted Parisian countess named Marianne. After the fall of the Soviet Union, Marianne has enough information to begin tracking the journey of her father. She was born in Siberia in 1945. Her mother is trapped there as bait, kept by Stalin, in hope of attracting the man who stole an atomic bomb from under the noses of Stalin's agents—who were active throughout the USA as enemies even while they posed as allies during World War Two. Marianne's life takes another tragic turn when her mother dies, leaving Marianne an orphan who survives on the floor of a rough sailers' tavern on the Arctic Sea. Her luck changes as a toddler, when she (Umnitsa) is adopted by a wealthy French couple and taken to Paris to live and be their heiress. Years later, bit by bit, starting in Moscow with the now friendly former spy Jaguar, Marianne tracks her father's mysterious journey to its conclusion in a remote mountain town outside San Francisco where he lives in an unusual menage with two wives who love him, whom he partnered with in the final days of World War Two.
Quoting From The Cover Blurb: "Marianne was a work of love in a world gone mad with war. Born in a remote Siberian outpost, she (and her beautiful mother) were part of an elaborate trap set by Stalin to kill his worst enemy: Marianne's father, a handsome and courageous young U.S. Navy officer... the accidental spy who kept the atomic bomb from faling into Soviet hands in 1945 San Francisco.
Orphaned at four, little Marianne was adopted by a wealthy French couple and raised in luxury. For years, like any princess, she was a darling and target of paparazzi. Her jet set life left flashbulb trajectories across Europe and North America… (Continued at lower right)
A Grand Epic Spanning Half a Century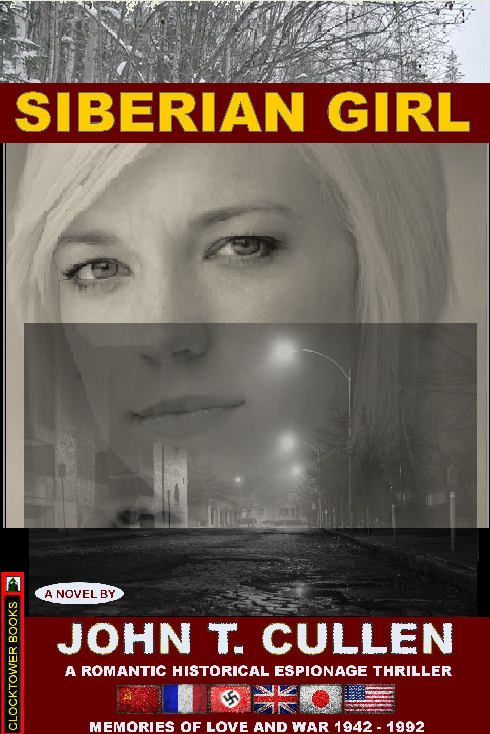 (continued from lower left):
… Marianne raised three good sons and managed old money. Then her husband died while racing sports planes, and her life sobered. When the Soviet Union ended in 1991, she began a global search for answers to quiet the pain in her soul. Was her father still alive somewhere, hiding in plain sight? Was it true that he had two wives, but never stopped yearning for the lovely triple agent who had captured his soul in San Francisco even as the United Nations was being founded in a United States no longer dedicated to isolationism and laissez-faire capitalism as during the 1920s, when the USA chose not to join the League of Nations and thus show leadership that might have helped avert the horrors of Nazism. Framed by the story of Marianne's quest, we delve deeply into the dark waters of history to watch Tim Nordhall's breathtaking adventures play out. It's a story that is gripping, dramatic, sprawling, with the cruelties of war yet also sentimental and powerful works of love. Evokes Boris Pasternak, Herman Wouk, John Dos Passos, and other authors of classic sagas mixing love, tragedy, and redemption on a global scale."
The World Is Round. One of the past titles has been The World Is Round: Memories of Love and War. Specifically, the reference is to a fact in Marianne's life: as a tiny child she would stand with her mother, holding hands, and gazing east across the Arctic waters toward America. That is where, her mother told her, her long lost father lived. The little girl was filled with a lifetime of yearning that propelled her on her later quest to find Tim Nordhall. Ironically, at the conclusion, when all the pieces come together and her questions are answered, Marianne one evening finds herself on a beach in the San Francisco Bay area looking west... and in her soul, locking eyes with a tiny little girl looking toward her over a great ocean, eyes filled with tears and longing.
Compare Boris Pasternak's *Doctor Zhivago* & Herman Wouk *Winds of War* & John Dos Passos' *USA Trilogy* among other classic sagas of love and war.